Electrical space heater TDS 50 R
Professional heating for a wide range of applications: With the electric heater TDS 50 R
Whether in building industry, shipbuilding, agriculture, car workshop, catering trade or assembly work – wherever condensation-free warmth with a high heating capacity of up to 9 kW is required directly on site and with immediate effect, the reasonably priced electrical space heater TDS 50 R is an ardently coveted solution.
In contrast to directly fired gas or oil heating devices this electrical space heater neither consumes oxygen nor produces combustion waste gases when generating warm air – optimum conditions for heating applications even in closed or poorly ventilated interior spaces.
Because of the large air volume the electrical space heater TDS 50 R is ideally suited for heating storage or production facilities in small to medium-sized industrial and business enterprises.
The desired temperature can be regulated as needed via the integrated infinitely variable thermostat. For more selected warmth, the heating capacity can be increased in two stages up to 9 kW. If desired, the fan can also be used in fan operation without heating function.
For maximum partability, the fully galvanized, painted sheet steel anclosures TDS 50 R Electrical Space Heater is equipped with a sturdy ergonomic handle.
All electrical space heaters of the TDS-R series in direct comparison:
To find the electric space heater which exactly meets your requirements, please consult the concise overview of all electric space heaters of the TDS-R series from Trotec, which we're providing to you here so that you can compare them directly to each other.
Models which you do not wish to include in your comparison can be easily dismissed with only one click.
A few practical benefits:
Temperature control with two heating levels
Integrated thermostat for a constant warm air flow
Overheating protection
Fan motor with thermal protection
Fan rundown function for cooling down the components
Non-condensing warmth – no oxygen consumption – thus ideally suited for the heating of interior spaces
Easy transport and operation
Fan operation also possible without heating function
Robust design with ergonomic handle
Practical knowledge guidebook – heating know-how for professional users
Benefit from first-hand manufacturer know-how: On our guidebook pages we're providing you with some detailed information regarding the different types of heaters including a functional description, focuses of application and lots more.
Continue to the practical knowledge guidebook for professional heating
Heat requirement calculation
In a few steps to the matching heating capacity. Calculate the heat demand required for heating our rooms – with our practical online calculator.
Shop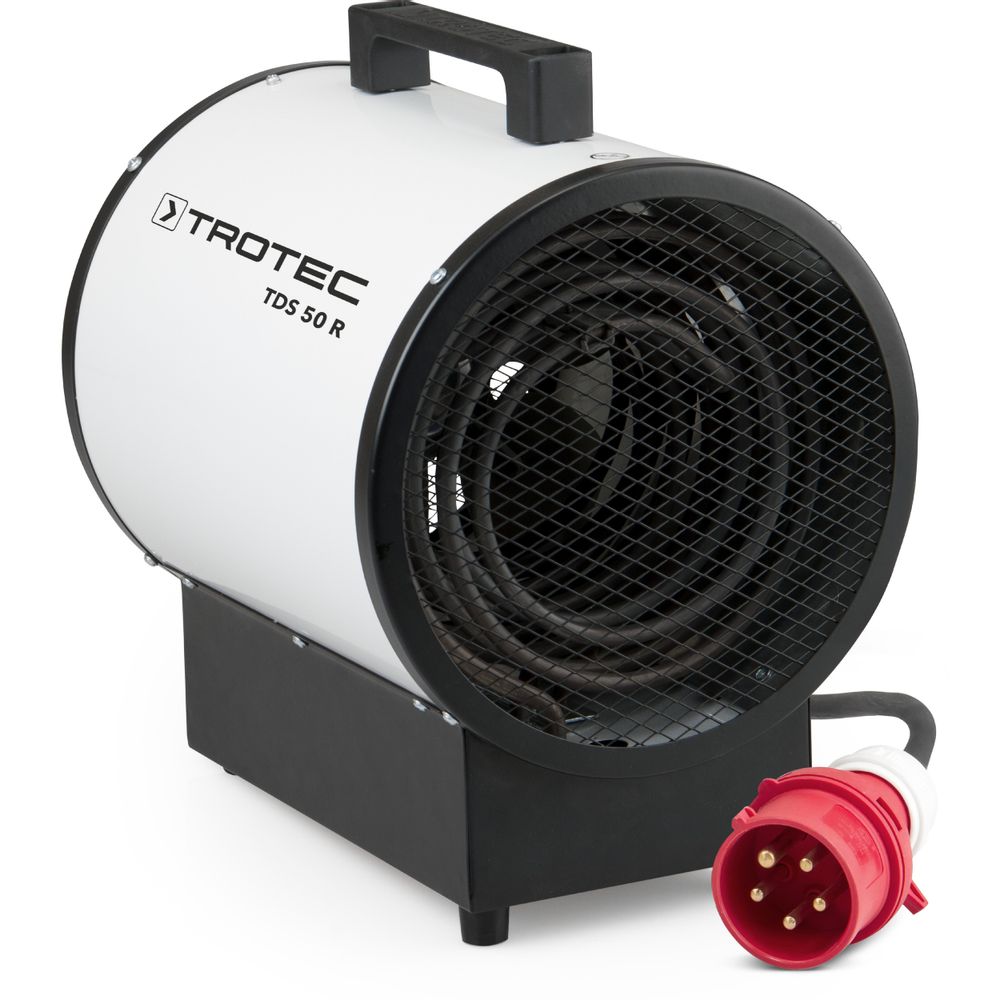 Technical data
Technical data
General information
Article number
1.410.000.008
Heating capacity
Level 1 [kW]
0
Level 2 [kW]
4.5
Level 3 [kW]
9
Level Max. [kcal]
7,740
Air flow rate
Level Max. [m³/h]
844
Temperature increase
in [°C]
85
Operating range
Min. temperature [°C]
-20
Max. temperature [°C]
45
Fans
axial
Radial
Number of fan stages
1
Electrical values
Mains connection
400 V, 50 Hz
Nominal current consumption [A]
13
Recommended fusing [A]
16
Power input [kW]
9
Electric connection
Connection plug
CEE 16 A, 5-pin
Provided by the customer
Cable length [m]
1.2
Functions and features
Fan rundown function
Sound values
Distance 1 m [dB(A)]
56
Hose connection
Hose connection
Dimensions
Length (packaging excluded) [mm]
315
Width (packaging excluded) [mm]
250
Height (packaging excluded) [mm]
370
Weight
(packaging excluded) [kg]
6.5
Equipment, features and functions
Operation
Thermostat
Mobility
Carry/transport handle(s)
Plastic wheels
Rubber-tyred metal wheels
Non-marking full-rubber wheels
Housing design
Metal
standard equipment
optionally available
not available
Alternative products
Loading...