Comfort dehumidifier TTR 50 E
Powerful permanent dehumidification at low ambient temperatures – up to 7.5 l/24 h dehumidification performance, energy-saving desiccation technology
Powerful dehumidification performance and comfort combined in perfect design
The compact and portable desiccant dehumidifier TTR 50 E is the ideal drying device for unheated environments such as basements, garages, conservatories, laundry rooms, garden houses, storage rooms as well as rooms with generally low room temperature. Wherever coldness and humidity become a problem, when there is a risk of mould formation or even health hazards, the powerful TTR 50 E with hygrostat-controlled automatic dehumidification quickly and reliably helps to achieve an optimum humidity level of 50 % or 60 %.
This way, the TTR 50 E permanently prevents problems with condensate, mould formation and musty smells in rooms of up to 18 m² or 45 m³. The drying device with integrated carrying handle, 2.5 litre water tank, washable air filter and connection option for a condensation hose is also recommended for efficient damage repair thanks to the adjustable permanent mode (continuous operation) after water damage (flood, inundation) or for creating a healthy room climate in living and business rooms.
Optimal for unheated and cold environments
Especially in cold areas, where conventional condensation dryers only provide an insufficient or uneconomic dehumidification performance, the TTR 50 E convinces even at low dew points and low temperatures below 0 °C (down to -10 °C) with a strong dehumidification performance of max. 7.5 litres/24h. At low temperatures, compressor-operated condensing dehumidifiers are susceptible to the formation of ice and need to have regular defrost phases. This noticeably increases the power consumption and also reduces the dehumidification performance. This is not the case when using the TTR 50 E. As there is no power-hungry compressor technology integrated in the drying unit, it dehumidifies in a pleasantly energy-efficient manner, without breaks and also without distracting noise.
Living comfort in its most beautiful shape
The modern TTR 50 E combines state-of-the-art comfort and design in its pure white plastic housing. Visually, the dehumidifier impresses with its rounded, unobtrusive design without corners and edges. The carrying handle integrated into the device perfectly picks up the round design again. A filling level indicator on the front clearly shows the water level in the 2.5-litre water tank. A flashing LED indicates when the water tank shall be emptied. The comfort features of the TTR 50 E are well-rounded with the three-speed selectable fan for air circulation in the entire room and an 8-hour timer for time-controlled switch-off.
PRODUCT BROCHURE
Moisture in the bathroom, basement or bedroom can lead to mold. All relevant information about our comfort dehumidifiers can also be found in the product brochure. Download the PDF directly here.
Gentle laundry drying with dehumidifiers
Apart from ambient air dehumidification, a dehumidifier can be conveniently used for drying laundry – either in an assisting way or as a full replacement for a conventional dryer. The laundry drying function (also referred to as clothes drying mode or SuperDry function) is comparable to traditional air drying outside.
Dehumidifiers offer the benefit of drying the laundry as gently as in the nature outside. Colours retain their brilliance and the life span of clothes is longer than with conventional dryers – and all this with a substantially lower power consumption.
Furthermore, even sensitive materials such as wool, silk or synthetic fibres can be dried without any problems. In contrast to pure air drying, the laundry feels much softer and more pleasant on your skin.
Laundry drying can also be performed with dehumidifiers without an additional laundry drying function. The target value of the air humidity must then be set in accordance with the desired residual humidity:
Cupboard dry: 46 % of relative air humidity
Iron dry: 58 % of relative air humidity
Skin dry: 65 % of relative air humidity
The convenient functions of the TTR 50 E at a glance
The user-friendly operation of the TTR 50 E is just as outstanding as its design. All settings can be made easily and conveniently at the touch of a button via the intuitive control panel with LED display on the top of the device. The current room humidity level is indicated.
Fully automatic permanent dehumidification – ideal for keeping basements, conservatories and garages permanently dry or for fast drying of damp walls and floors after water damage.
Hygrostat-controlled automatic dehumidification function with target value preselection (50 % or 60 %) – ideally suited for establishing a healthy room climate with an optimum humidity level.
Three-speed fan with on-demand swing function
Uniform dehumidification of the room requires good air circulation. With the three-speed fan (max. 126 m³/h), the room air circulation can be optimally adjusted to the room size. A on-demand swing function provides an optimal distribution of the air, even inside furniture and objects. 
Selectable ionisation
The ionisation function can be switched on which will result in the TTR 50 E to capture dirt particles even more effectively via the air filter. In the course of the ionisation process, negatively charged ions are released. Their static charge binds all animal hair, fluff and dust particles. As a result, these particles sink down to the ground where they will be immediately drawn in by the air current of the three-stage fan to be bound by the filter. This way, the room air is cleaned of coarser particles.
Connection for condensation drain hose
Save yourself the hassle of emptying the water tank! In order to continuously drain the condensation water, a pipe can be connected on the rear of the device. The water can thus be conveniently drained off into an existing drain.
8-hour timer – programmed for comfort and economy
To save unnecessary operating times and thus electricity costs, for example when drying laundry, the operating time of the dehumidifier can be preset to two, four or eight hours.
The desiccant dehumidifier TTR 50 E is the economical drying solution for unheated and cold environments.
The TTR 50 E combines reliable drying and plenty of comfort
Optimal dehumidification – anywhere you need it
A few practical benefits:
Dehumidification with desiccation technology – ideal for unheated rooms and low-temperature surroundings down to -10 °C
2 operating modes: Dehumidification function and continuous operation
Two preselectable target values for dehumidification (50 % and 60 %)
8-hour timer function
Three-speed fan with swing function
Integrated air filter and selectable ionisation for additional air purification by extraction of dust and animal hair
Integrated carrying handle
Overflow protection with automatic switch-off
Connection for external condensate drain
Which device to use for which room size?
Here you find a specific performance chart for the suitability of each comfort dehumidifier. It indicates the room size in combination with an area and volume scale. Click to enlarge in a new window ...
Our recommendation for climate control:
The room thermohygrometer BZ05
Simultaneous display of room temperature, humidity level and time or date as well as an additional feel-good indication.
The design weather station BZ06
Simultaneous indication of room temperature, humidity level, date, time, weekday and symbolic weather forecast. Supplies helpful information for preventing mould growth.
Adsorption, condensation or Peltier dehumidifier?
Trotec, your dehumidification expert, has compiled the most important facts in a reader-friendly overview!
standard equipment
optionally available
not available
Buy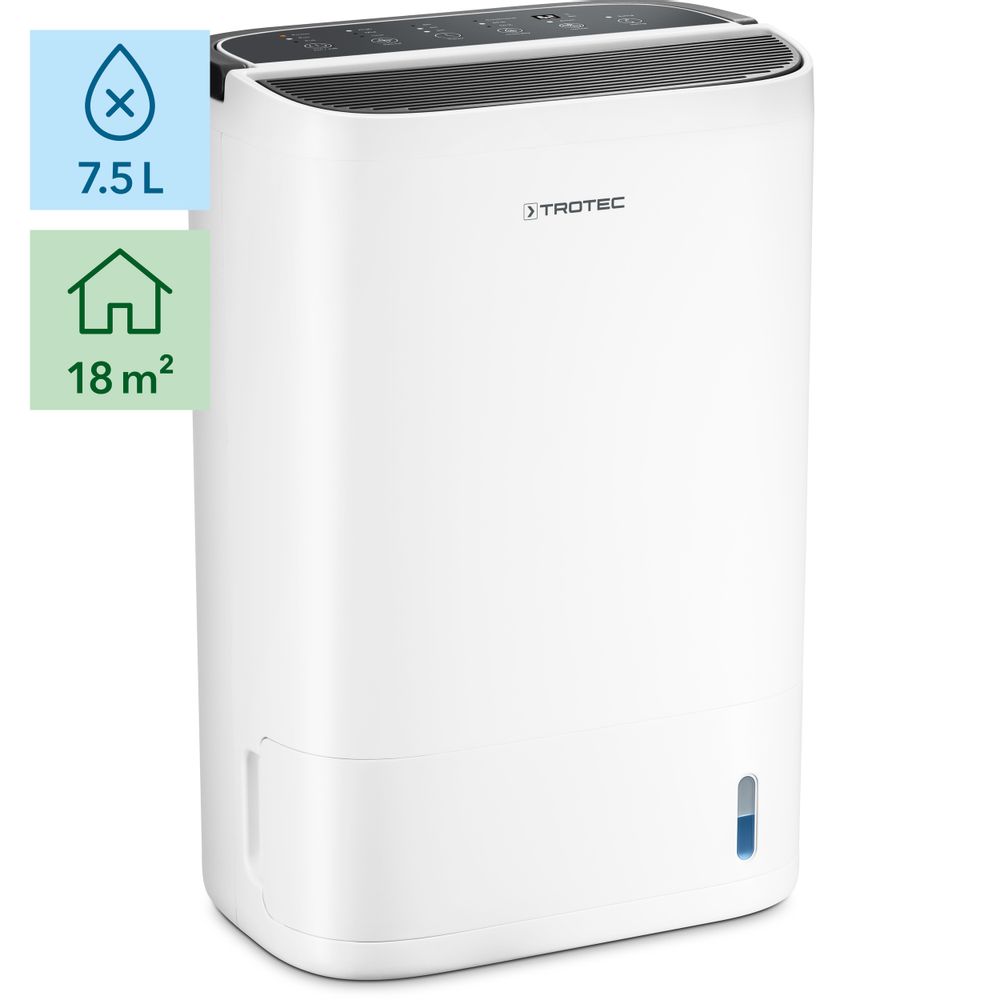 Technical data
Technical data
General information
Article number
1.120.000.060
Dehumidification performance
At 30 °C / 80 % RH [l/24h]
7
Max. [l/24h]
7.5
Air flow rate
Level Max. [m³/h]
126
Recommended room size construction drying
m³
m²
Recommended room size dry keeping
m³
45
m²
18
Ambient conditions
Min. temperature range [°C]
-10
Max. temperature range [°C]
35
Min. humidity range [% r.F.]
35
Max. humidity range [% r.F.]
75
Electrical values
Mains connection
220 - 240 V, 50/60 Hz
Nominal current consumption [A]
2.7
Power input [kW]
0.65
Recommended fusing [A]
10
Electric connection
Connection plug
CEE 7/17
Cable length [m]
1.7
Water tank
Contents in [l]
2.5
Sound values
Distance 1 m [dB(A)]
38
Dimensions
Length (packaging excluded) [mm]
200
Width (packaging excluded) [mm]
300
Height (packaging excluded) [mm]
455
Weight
(packaging excluded) [kg]
6
Equipment, features and functions
Automatic dehumidification
Hygrostat-controlled
Program-controlled
Fan
axial
Radial
stages
3
Condensate tank monitoring
Container available
Filling level warning light to indicate a full water tank
Overflow protection with automatic switch-off
Room air filter
Cleanable
Timer function
Switch-off time can be preselected
Functions and features
Tilt protection
Continuous operation
Display of the relative humidity level
Water filling level indicator
Indication of the current room humidity level
Mobility
Feet
Carry/transport handle(s)
Condensate drain
Hose connection possible
Hose included in the scope of delivery
Recommended hose size [mm]
15 mm
Condensate pump
Control panel
LED display
Membrantasten
Adjustable air discharge direction
Swing function
Housing design
Plastics
standard equipment
optionally available
not available
Alternative products
Loading...