BN35 radio thermostat with timer
The convenient solution for thermostat and time control of your electric heating or cooling units
A constant feel-good temperature – reliably regulated
Using the radio thermostat BN35 from Trotec as remote control, you can easily determine at which room temperature electric heaters or air conditioners shall be switched on or off. The convenient time control of electrical devices with integrated thermostat is also possible.
You can control the switch-on and -off of just one or several devices at a time. The (unobstructed) radio range amounts to approx. 20 metres. It allows you to simultaneously control up to 100 radio-controlled sockets (receivers) with just one radio thermostat (transmitter) – always provided that they are situated within reach. With the timer function you can ensure an agreeable air temperature in a room before even entering it – ideal for the cold kitchen in the early morning, for bathrooms, guest toilets, basement hobby rooms, conservatories, office spaces etc.
Here's how it works:
The BN35 set comprises a radio-controlled socket and a radio thermostat. Simply plug the radio-controlled socket in between a wall outlet and your electrical device. Now you can use the radio thermostat as remote control to set the desired switch-on or switch-off temperature. The radio thermostat measures the room temperature at the current location and accordingly switches the heater or air conditioner on or off to reach the desired target temperature value. Upon reaching the predefined room temperature, the radio thermostat switches the connected electrical appliance off until another cooling or heating cycle is required.
Furthermore, you can make use of a separate or combined time control so as to specify temperature-dependent switch-on/off times in advance. An energy-saving and budget-friendly solution! The BN35 offers you endless possibilities.
The BN35 – all functions and characteristics at one glance:
Using the radio thermostat in heating or cooling mode you can specify the desired target temperature ranging between 0 °C and 70 °C in fine increments of 1 °C (or Fahrenheit). Of course, in order to actually reach the desired room temperature, the connected heating or cooling unit must have a sufficient performance capacity. A scheduled, time-controlled switch-on and switch-off of the connected devices can also be accomplished. 
Suitable for a wide variety of heating and cooling units
The BN35 is ideally suited for the majority of eating and cooling units on the market. These include infrared radiant heaters, heating panels, fan heaters, PTC ceramic heaters, convectors, oil-filled radiators, air conditioners, air coolers, fans or even electric towel dryers in the bathroom. The customary maximum load of up to 3,680 watts is fully supported by the BN35.
Range of up to 20 m 
The radio thermostat is your remote control. Even radio-controlled sockets located at a greater distance can easily be controlled from your present position. The range amounts to max. 20 metres, however, there should be no obstacles which could weaken or interrupt the radio signal.
1 radio thermostat for up to 100 radio-controlled sockets
Up to 100 radio-controlled sockets can be controlled wirelessly with just one radio thermostat. All radio-controlled sockets situated within the 20 m range will be tripped simultaneously by the radio thermostat. Hence, the set is ideally suited for use in greenhouses or halls. The corresponding radio-controlled sockets of type BN35R can be obtained from Trotec as separate accessories.
Thermostat mode and timer can be combined 
Both thermostat mode and timer can be used separately or cleverly combined. By way of example, you can set a heater to be running on Monday between 3 and 5 p.m. and heat a room to 25 °C. At the scheduled time, the radio thermostat will measure the room temperature using its integrated sensor and then switch on the electric heater via the radio-controlled socket to heat the room. But, if the air temperature already corresponds to the desired value, the heater will only start up when falling below the preset 25 °C. An energy-efficient solution – for the device only heats as and when required. Be it at specified times or in continuous operation – with the BN35 you are always in control of when and at which temperature you want to start heating or cooling.
Switched off for the night and back on in the morning
Devices already equipped with an integrated thermostat can use the BN35's timer function. There is no need for heating or cooling devices to be running all night while you're sleeping. To keep from consuming any unnecessary energy you can set the timer in a way that the connected device will be switched off at 10 p.m. and back on at 7 o'clock the next morning.
6 options for timer programming 
The radio thermostat allows you to preset up to 6 different automatic timer programmes per day. For each individual programme, you can select on what day and at what time the timer will be activated and deactivated automatically. There are 4 options for selecting the days: You can either select one single day of the week (Mon, Tue, Wed, Thu, Fri, Sat, Sun), only working days (Mon – Fri), only the weekend (Sat – Sun), or the entire week (Mon – Sun).
Site recommendation 
The radio thermostat always measures the current room temperature of its surroundings. To make sure the sensor can detect the temperature correctly, it is important to be mindful of where the radio thermostat is positioned. On a window sill, for example, exposed to direct sunlight it will generally be warmer than in the centre of the room. A fireplace or radiator should not be in the immediate vicinity either. Therefore, it is advisable to perform the temperature measurement of a radio thermostat from a position promising a realistic measured value.
Everything under control
Used as mobile version, quickly at hand wherever you go, or for stationary application mounted to the wall: the backlit LCD display of the radio thermostat indicates the current time and room temperature, battery status (2 AA batteries) and – depending on the mode – all relevant setting options, time periods, target temperatures etc. As a result you will always be able to keep track of the set parameters.
Frost protection function
Should the ambient temperature of the radio thermostat drop to 3 °C or below, a frost protection mode, which ensures that the room temperature is increased to 5–7 °C by the heater connected to the radio-controlled socket, is activated automatically. In this manner, e.g. water pipes in unheated rooms are protected against icing up.
Can also be controlled manually 
You can also switch your connected heating or cooling unit on or off by pressing a button directly at the radio-controlled socket. However, this rules out the operation with thermostat function.
Saving energy by means of a permanent consumer switch-off function (OFF) 
To make sure that an electrical device really is turned off and no longer consumes power (no stand-by operation), the power supply can be reliably interrupted owing to the 2-pin circuit breaker.
Automatic switch-over from daylight saving to standard time and vice versa 
Using the DST option, the radio thermostat will automatically switch over from daylight saving to standard time and vice versa. Which means that you need not think about anything with regard to the time change twice a year, your preset time intervals will be adjusted automatically. For it is by no means certain whether we will really say goodbye to daylight saving in all of Europe by 2021.


The BN35 impresses with high quality and safety standards
The set of radio thermostat and radio-controlled socket consists of safe components of high quality. What the BN35 offers:
Safety: 230 V AC / 16 A, 24/7 max. 3,680 W (also in continuous operation)
Line protection: additional internal overload protection
2-pin circuit breaker: Connected terminal devices are de-energized.
Tested quality: The radio-controlled socket is certified according to DIN VDE 0620-1.
Technical details of the BN35
All room thermostats in direct comparison:
To find the room thermostat which exactly meets your requirements, please consult the concise overview of all room thermostats from Trotec, which we're providing to you here so that you can compare them directly to each other.
Models which you do not wish to include in your comparison can be easily dismissed with only one click.
A few practical benefits:
Suitable for manual and automatic heating and cooling control
Extensive programming options via timer: 7 week programs, 6 changes per day 
Individual programming depending on the day: Mon – Fri, Sat – Sun, Mon – Sun
Timer function, thermostat function and a combination of timer and thermostat function
The timer function is also a useful addition for electric heating or cooling units already fitted with integrated thermostat
Simple and flexible installation
Suitable for simultaneous switching up to 100 radio-controlled sockets
Simple switch-over from daylight saving to standard time 
Operating range from 0 °C to 70 °C
Temperature control in steps of 1.0 °C 
Automatic frost protection system (5 °C)
Permanent consumer switch-off function (OFF) 
Large range of up to 20 metres 
Indication of room temperature and time
Backlit display
Battery status indication 
For mobile application or wall mounting
Separate radio-controlled sockets BN35R are optionally also available as accessories
standard equipment
optionally available
not available
Buy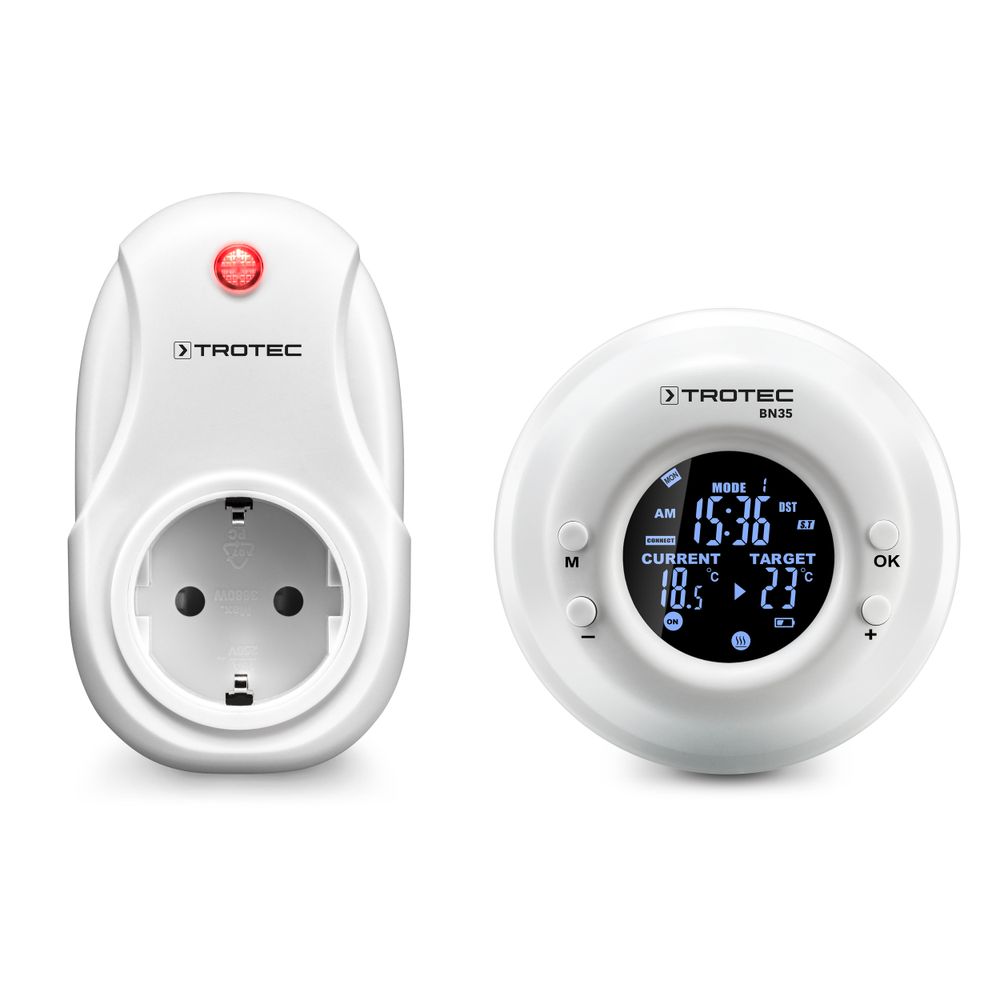 Technical data
Technical data
General information
Article number
6.100.007.008
Control range
Control range
0 °C up to 70 °C /32 °F up to 158 °F
Accuracy
±1 °C
Measuring interval [s]
20
Switching capacity
Resistive load
16 A / 250 VA
Inductive load
3.4 A / 250 VA
CEE 7/3 (Schuko socket type F)
Display
LCD
Device control
Push buttons
Remote control
Housing design
Plastics
Insulation
Protection class II
CAT II (2,500 V)
IP20
Power supply
2 x 1.5 V, AA
Mains connection
Mains connection
230 V, 50 Hz
Connection plug
CEE 7/3 (Schuko socket type F)
Ambient conditions
Operation - min. temperature [°C]
0
Operation - max. temperature [°C]
70
Dimensions
Length (packaging excluded) [mm]
73
Width (packaging excluded) [mm]
66
Height (packaging excluded) [mm]
112
Weight
(packaging excluded) [kg]
0.105
Standard scope of delivery
Standard scope of delivery
Control unit
radio-controlled socket
Operating manual
Ascertainable measured values and functions
Internal sensors
Air temperature [°C]
Air temperature [°F]
Functions and features
Temperature control for heating or cooling operation
Indication of the current room temperature
Target temperature indication
Programmable timer switch
Backlit LC display
Automatic frost protection system
Fail-safe
Simple switch-over from daylight saving to standard time
LED indicator button
Memory function
Can be remote-controlled
Battery status indication
standard equipment
optionally available
not available
Alternative products
Loading...