Cordless compressor and air pump PCPS 11/12-20V
Inflation and deflation have never been so easy
A practical set of cordless compressor and air pump for various fields of application
This practical complete set is the first choice for all applications requiring large air volumes to be in- or deflated at high pressure. Neatly stored away in the supplied carry case, the cordless compressor PCPS 11-20V and cordless air pump PCPS 12-20V from Trotec are always on the spot as reliable aids should you ever run out of steam – or compressed air.
Working under pressure? No problem for the cordless compressor PCPS 11-20V
Be it car, bicycle, scooter, moped or motorbike, the powerful cordless compressor is not only particularly well suited for inflating tyres – it is an equally practical aid for footballs, basketballs, handballs etc.
The PCPS 11-20V is particularly easy to connect, for the supplied 10-piece accessory kit contains adapters for all common valve types. Integrated on both sides of the cordless compressor's housing are holding fixtures to keep a compressed-air hose and valve adapters at the ready.
Simply connect the cordless compressor to tyres, toys and sports equipment, then they can be inflated quickly and conveniently. Use the preselection function to set the desired filling pressure indicated on the LCD display in either bar or psi and activate the compressor. The inflation process stops automatically when the preselected pressure value has been reached.
Owing to its high performance of max. 7 bar the cordless compressor PCPS 11-20V constitutes the perfect solution for all inflation processes requiring a high air pressure.
A big air spender – cordless air pump PCPS 12-20V
Paddling pools, dinghies, air beds or mattresses: all of these items have a high recreational and use value. If only it weren't for the tiresome inflation process, especially since often enough you just don't have the right pump on hand and have to blow it up yourself. With our cordless air pump you can lean back and pause for breath, for the PCPS 12-20V does all your inflation work quickly and effortlessly.
With its high air flow rate of max. 70 m³/h the cordless air pump is optimally suited for all objects with a large volume to be filled. The according adapters for different nozzles are included in the scope of delivery.
As convenient pump with 2-in-1 function the PCPS 12-20V can furthermore just as easily be used for exhausting air.
This way, truly all air is deflated from your inflatables without any effort and you can store them away for later use in a space-saving manner.
Better together – set of cordless compressor and cordless air pump
Combined these two tools are the ideal solution for practically all inflation applications – and they have even more useful benefits in common: Both devices come equipped with an integrated LED work light, thus valve connections remain clearly visible even in the twilight.
Moreover, both devices can be used with the same battery. With a charging capacity of 2 Ah the supplied 20 V Flexpower multi-device battery is optimally prepared for extended pumping operations. What's more, it can be combined with other Trotec power tools.
Flexpower – the innovative multi-device battery system from Trotec
Even the standard scope of delivery of this power tool from Trotec already includes a powerful 20 V multi-device battery from the Trotec Flexpower portfolio with a high charging capacity of 2 Ah. You can check the current charging status via the three-stage battery level indication that is integrated in the battery housing and clearly visible at one glance.
This power pack that can be fully charged in about an hour not only enables device runtimes extended by up to 33 % – as compared to standard batteries with only 1.5 Ah – moreover, this Flexpower multi-device battery can also be flexibly combined with different Trotec tools, including i.a. the cordless rotary hammer PRDS 10‑20V, the cordless multi-function tool PMTS 10‑20V, the cordless portable circular saw PCSS 10‑20V, the cordless random orbital sander PESS 10-20V, the cordless work light PWLS 10‑20V, the cordless work LED light PWLS 15‑20V, the cordless drill driver PSCS 11‑20V, the cordless hammer drill PHDS 11‑20V, the cordless grass and shrub shears PGSS 10-20V, the Cordless compressor PCPS 11‑20V and air pump PCPS 12‑20V, the cordless pendulum action jigsaw PJSS 11‑20V, the cordless hand-held vacuum cleaner VC 10‑20V or the Cordless vacuum cleaner VC 15‑20V.
Thanks to Flexpower you can do without unnecessary batteries and chargers – and the search for a suitable battery has also come to an end. Simply change the device, not the battery. Flexpower puts a stop to the unnecessary amount of various exchangeable batteries; the combination option with an ever increasing number of tools allows you flexibility at all times so you can carry on your projects energetically!
Premium branded battery for constantly full power
By now, lithium-ion batteries are widely distributed, after all they come without memory effect and self-discharge. Plus these batteries can be disconnected from the charger and used right away without it affecting the battery's lifetime. But "lithium ions" is a generic term used for batteries of various qualities and made of diverse electrode materials; including those with a perceptibly weakening performance once the battery charge decreases.
Lithium-ion batteries supplied by Trotec are high-quality premium branded NMC batteries with a high energy density and charging voltage lasting until the end without exceptions – guaranteed! Compared to conventional lithium-ion batteries the performance of our premium branded batteries does not decrease even as the discharge increases.
Consequently, you benefit from lasting maximum power even with an almost empty battery. During longer operation only the battery charge decreases, never their performance – that is the added value of Trotec's premium branded batteries!
The key equipment features of cordless compressor and cordless air pump at a glance
A practical set of cordless compressor and air pump for various fields of application
All compressors in direct comparison:
To find the compressor which exactly meets your requirements, please consult the concise overview of all compressors from Trotec, which we're providing to you here so that you can compare them directly to each other.
Models which you do not wish to include in your comparison can be easily dismissed with only one click.
A few practical benefits:
Complete set of high-performance brand-name tools in TÜV-tested quality
Flexpower multi-device battery system – can be flexibly combined also with other cordless tools from Trotec
Powerful 20 V lithium-ion battery without memory effect and self-discharge
Cordless compressor with a pressure capacity of 7 bar and automatic inflation according to the target value preselected via the LCD
Cordless air pump for high-volume inflation and deflation tasks of max. 70 m³/h
10-piece set of adapters for all common valve types included in the scope of delivery
Integrated LED work light
Soft grip rubber inlays in the housing for extra firm hold
Three-stage battery level indication integrated in the battery
All important features at a glance
Complete set with a comprehensive scope of delivery: cordless compressor PCPS 11‑20V, cordless air pump PCPS 12‑20V, quick charger, replaceable Flexpower multi-device battery (20 V, 2 Ah), carry case and ten-piece accessory kit comprising: three air pump nozzle attachments of various sizes, compressed-air hose with threaded connector, adapters for Dunlop and Presta valves, ball needle, one long and two short universal adapters.
Brand quality plus cost-efficiency
So far, you basically only had two options when choosing a battery-operated compressor or air pump: either good but expensive, or mainly cheap.
Trotec's PowerTools now offer a smart choice: good and cheap at the same time. For we do not only stand for measuring devices and air conditioners, but also for power tools of brand quality: professional Trotec solutions with an excellent value-for-money ratio!
standard equipment
optionally available
not available
Buy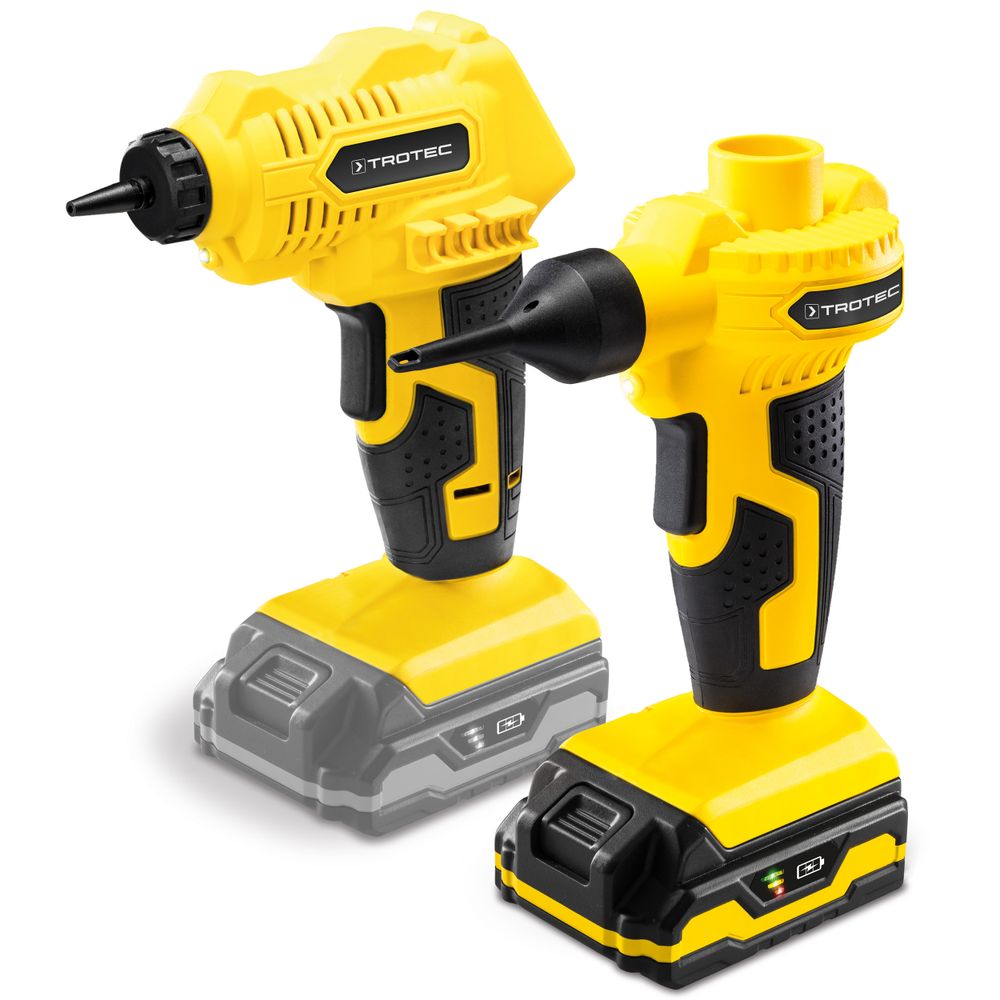 Technical data
Technical data
General information
Article number
4.650.000.051
Compressor PCPS 10-16V data
Max. pressure [bar]
7
Air pump PCPS 11‑16V data
Air flow rate [m³/h]
70
Electrical values battery
Battery nominal voltage [V]
20
Battery capacity [Ah]
2
Capacity indication
3-stage
Battery type
Li-ion
Battery charging time [h]
1
Charger
Mains connection
230 - 240 V, 50 Hz
Output voltage [V]
21.5
Power input [W]
65
Nominal current consumption [mA]
2,400
Connection plug
CEE 7/16
Cable length [m]
1.5
Protection class
II
Dimensions
Length (packaging excluded) [mm]
300
Width (packaging excluded) [mm]
102
Height (packaging excluded) [mm]
331
Weight
(packaging excluded) [kg]
2.5
Equipment, features and functions
Functions and features compressor
Preset pressure with automatic switch-off
Backlit LC display
Display of the current pressure level
Optional pressure indication in bar or psi
Automatic display switch-off during a longer period of non-use
Memory function
Functions and features air pump
Inflating
Pumping out
Common functions and features
Softgrip
LED work light
Standard scope of delivery
Accessories scope of delivery
Compressed-air hose with threaded connector
Dunlop valve
Presta valve
Ball needle
Universal plastic adapter
3
Universal adapter for valves with an inner diameter of 8 mm
Adapter for screw valves
Adapter for vent valves
Quick charger
Number of batteries
1
Transport case
standard equipment
optionally available
not available
Alternative products
Loading...