Angle grinder PAGS 11-125
Powerful 1,200 W angle grinder for fast and ergonomic working
CUTTING, GRINDING, POLISHING – MANIFOLD APPLICATION POSSIBILITIES
Facility managers, do-it-yourselfers and professionals alike, neither would want to do without this all-rounder in their well-sorted tool chest: the angle grinder. It is known by many names, but an angle grinder's functional range is even more varied: it can be used for separating, grinding, deburring, polishing, brushing, cleaning and cutting operations.
Equipped with a durable die-cast aluminium gearhead and a 1,200 W motor, the robust angle grinder PAGS 11-125 is a genuine power pack suited for professional continuous applications. With a consistent speed of 3,000 to 12,000 revolutions per minute the device is also able to impress with a constantly high performance for fast working progress – even under extreme load. Owing to the infinitely variable speed control the PAGS 11-125 can be optimally adjusted to the materials to be processed. Tip: A higher speed is recommended for working on harder materials. A practical spindle lock permits the tool-free exchange of discs in next to no time.
One for all
The different discs (diameter: 125 mm) render the device universally applicable – especially when it comes to grinding and cutting through hard materials such as stones, tiles, concrete and metal. With a wire disc brush you can grind down any defects in the paintwork as well as rust spots thus preparing them for spot repair, also you can use the device to polish up stone and metal surfaces and for stripping and smoothing down weld seams. Advantageous: The infinitely variable speed selection via setting wheel permits you to adjust the device performance to the respective material. Once the job has been done, you can store the angle grinder incl. mounted disc safely away in the convenient transport case. In addition to the case the scope of delivery includes a Ø125 mm cutting disc for metal, a protective cover, an additional handle, a pin-type face wrench and a clamping nut.
CONVENIENT, ERGONOMIC, SAFE – FIRST-CLASS FEATURES
Owing to its low weight and the ergonomic design our angle grinder PAGS 11-125 comes with the perfect prerequisites for well-controlled, comfortable working – even in case of longer operation. This is aided by the slim, firmly mounted main handle with soft grip rubber inlay and another additional handle which can be variably mounted in 3 positions.
Moreover, the additional handle permits bimanual operation. For one thing, this reduces the physical effort and, therefore, the resulting fatigue by providing the option of alternating between working horizontally and vertically, for another, it ensures convenient handling characteristics for both right- and left-handers. What has also significantly improved is the ability to reach poorly accessible locations. The slim metal gearhead ensures an ideal force transmission and low-vibration operation.
The angle of the protective cover can be adjusted quickly so as to effectively prevent injuries resulting from inadvertent contact with the angle grinder's disc or caused by flying debris or sparks. To reduce the risk of an unintentional or unauthorized application, the on/off switch is additionally secured by a start lock. The robust rubber cable of 3 m length ensures a wide operating range and completes the angle grinder's convenient equipment features.
Note: Only use discs with a speed rating (see label) that minimally meets the one on the angle grinder's nameplate and never apply pressure to an extent where the device comes to a standstill.
SPECIAL EQUIPMENT FEATURES OF THE PAGS 11‑125
All Angle grinders in direct comparison:
To find the Angle grinder which exactly meets your requirements, please consult the concise overview of all Angle grinders from Trotec, which we're providing to you here so that you can compare them directly to each other.
Models which you do not wish to include in your comparison can be easily dismissed with only one click.
A FEW PRACTICAL BENEFITS:
Powerful and durable 1,200 W motor for quick and efficient continuous operation
Ideal for cutting, grinding and brushing metal as well as for cutting tiles and concrete blocks
Material-compatible working thanks to infinitely variable speed selection via setting wheel
Constantly high performance with a steady speed of 3,000 to 12,000 rpm even under load
Durable, slim die-cast aluminium gearhead
Comfortable working due to low vibrations
Spindle lock allowing simple exchange of discs
Quick and tool-free adjustment of the protective cover
On/off switch with start lock
Main and additional handle with soft grip rubber inlays
Additional handle can be variably mounted in 3 positions
Angle grinder can be stored in the case without having to disassemble the disc
Wide operating range owing to robust rubber cable of 3 m length
All important features at a glance
So far, you basically only had two options when choosing an angle grinder: either good but expensive, or mainly cheap.
Trotec's PowerTools now offer a smart choice: good and cheap at the same time. For we do not only stand for measuring devices and air conditioners, but also for power tools of brand quality: professional Trotec solutions with an excellent value-for-money ratio!
Powerful alternatives:
The PAGS 10-115 is the archetype of a conventional angle grinder with robust technology fitted into an ergonomically shaped construction and simultaneously one of the lightest angle grinders of its class.
The professional angle grinder PAGS 10-230 for demanding tasks. The power pack scores with an extremely powerful 2,000 W motor for efficient continuous operation.
Accessory tips: angle grinder discs from Trotec*
Cutting and roughing disc set
The 11-piece special offer package includes 5 cutting discs each for stone (AD 125 S) and metal (AD 125 M) as well as one metal roughing disc (AD 125 MG) – naturally supplied in Trotec brand quality and with an MPA test certificate. Used with the angle grinder PAGS 11-125 or any other suitable device these Ø125 mm discs are ideally suited for professional applications.
INOX metal cutting disc AD 125 MI
The Ø125 mm INOX metal cutting discs contained in the 12-piece special offer package are free of iron, sulphur and chloride. They are predestined for processing stainless steel since the special abrasive mixture prevents the formation of rust at the cutting edges. The tried and tested Trotec brand quality and the MPA test certificate guarantee first-class working conditions.
Stone cutting disc AD 125 S
The high-performance stone cutting discs AD 125 S, supplied in an advantageous 5-piece special offer package, fit any hand-held angle grinder intended for discs with a diameter of 125 mm. Owing to their silicon carbide abrasive they are the ideal solution for quickly cutting mineral materials such as natural stone, concrete, roofing tiles or sand lime bricks. With these cutting discs you can benefit from the tried and tested Trotec brand quality including MPA test certificate.
* Not included in the scope of delivery
standard equipment
optionally available
not available
Buy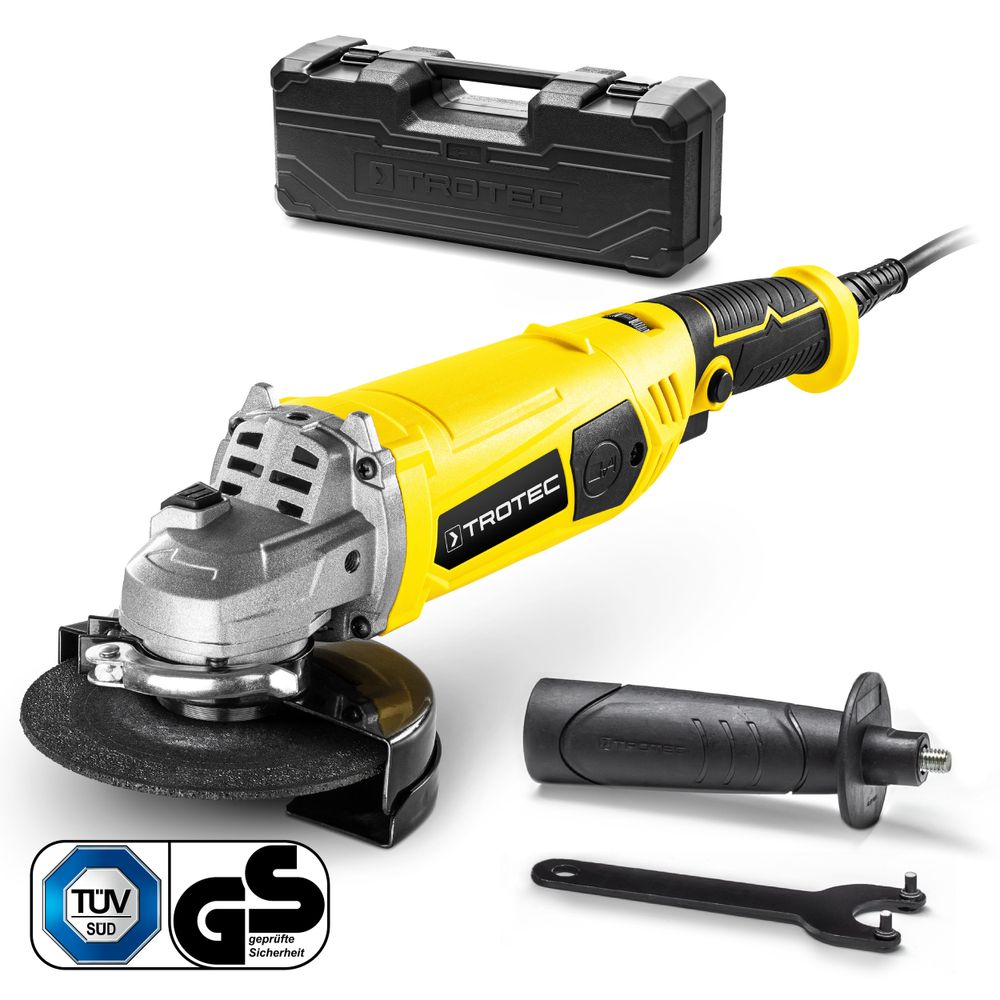 Technical data
Technical data
General information
Article number
4.440.000.006
Technical data
Rated speed
3.000 - 12.000 min-1
Spindle thread
M14
Type of protection
IP20
Protection class
II
Disc size [mm]
125
Electrical values
Power input [W]
1,200
Mains connection
230 - 240 V, 50 Hz
Connection plug
CEE 7/17
Cable length [m]
3
Sound values according to EN 60745
Sound pressure level [dB(A)]
98.3
Sound power level [dB(A)]
109.3
Uncertainty K [dB]
3
Compressor vibration information according to EN 60745
Vibration emission value (ah) Main handle [m/s²]
8.65
Uncertainty (K) Main handle [m/s²]
1.5
Data cutting disc
Idle speed [min-1]
12,250
Max. disc speed [m/s]
80
Cutting disc diameter [mm]
125
Bore diameter [mm]
22.23
Cutting disc thickness [mm]
3.2
Functions and features
On/off switch with safety switch
Soft start
Spindle lock
Additional handle 3 mounting options
Infinitely variable speed control
Softgrip
Accessories scope of delivery
Cutting disc
Wrench
Pin-type face wrench
Protective cover
Additional handle
Transport case
Dimensions
Length (packaging excluded) [mm]
140
Width (packaging excluded) [mm]
390
Height (packaging excluded) [mm]
120
Weight
(packaging excluded) [kg]
2.5
standard equipment
optionally available
not available
Alternative products
Loading...