Cordless jigsaw PJSS 11-20V
Compact and cordless contraption guaranteeing a clean cut – also with regard to costs
Jigsaws with battery, cord or barrel grip
With this cordless pendulum action jigsaw everything will come off well – even without a nearby socket. For maximum performance the powerful motor of the PJSS 11-20V is supplied by an exchangeable high-energy 20 V battery. Owing to lithium-ion technology, this battery shows no memory effect or any sign of self-discharge. Thus, the jigsaw is ready for operation at all times even after longer periods of non-use. A three-stage illuminated indicator on the device informs you of the current battery status. Using the supplied quick charger an empty battery can be fully charged in about an hour.
In terms of functionality and equipment the PJSS 11-20V is in no way inferior to the cable-connected jigsaws:
The combination of infinitely variable stroke rate control with safety switch and adjustable 4-step pendulum action incl. fine-cut setting permits easier notching and material-compatible working whilst ensuring a quick sawing progress and an improved manoeuvrability in curves. In wood the jigsaw PJSS 11-20V achieves cutting depths of up to 80 mm, up to 12 mm in aluminium and 5 in metal.
The quick-release chuck of the PJSS 11-20V permits a tool-free saw blade exchange in a matter of seconds. In order for you to get started right away, a number of high-quality saw blades for all application areas are already included in the scope of delivery.
You will be presented with even more application possibilities when using the PJSS 11-20V in combination with our multi-part set of saw blades for wood or metal – needless to say, both will be supplied in prime Trotec quality as well.
Ergonomic design for wireless precision
The ergonomics of the light and compact PJSS 11-20V were optimized for extensive applications, additionally it was provided with soft grip inlays. Consequently, a firm and secure grip is ensured even during longer operation for low-vibration sawing at all times. With the robust steel base plate it can be directed very precisely. For mitre cuts the plate can be swivelled to both sides in increments of 15°. The maximum is 45°. This adjustment does not require tools. A plastic sliding plate for the protection of sensitive workpieces is also supplied.
Whilst the transparent anti-splinter guard with marker point ensures precise tear-free cuts for your sawing work, there will be no sawdust obstructing your view of the well illuminated cutting area of the workpiece thanks to the integrated LED lamp and the practical blow-out function. For dust-free indoor operation the blower function can also be set to suction mode. By means of the adapter you can attach a vacuum cleaner to the dust extraction connection of this versatile jigsaw.
Furthermore, after use you can store the PJSS 11-20V in a neat and tidy manner, for a suitable transport case is already included in the standard scope of delivery. In the robust case with integrated storage compartment jigsaw and accessories are kept in an orderly manner and protected from dust and damage during transport.
The PJSS 11-20V is a neat and tidy solution for various jigsaw applications – not restricted to the workshop, garage or outdoors. Thanks to the integrated dust extraction system you can also use this pendulum action jigsaw in your living areas without wreaking havoc or being smothered in sawdust.
You want to saw your kitchen worktop or the shelf in the living room to length directly on site? Simply set the blower function of the PJSS 11-20V to suction mode and connect an external vacuum cleaner to the device. Using the suction function you can keep both the room and the ambient air free from wood chippings, plastic shavings, metal swarf and sawdust – for convenient sawing even in the living area!
Special features of the PJSS 11‑20V
Straight or curved - with the PJSS 11‑20V cordless jigsaw you are always on a precision course
All Jigsaws in direct comparison:
To find the Jigsaw which exactly meets your requirements, please consult the concise overview of all Jigsaws from Trotec, which we're providing to you here so that you can compare them directly to each other.
Models which you do not wish to include in your comparison can be easily dismissed with only one click.
A few practical benefits:
Powerful 20 V lithium-ion battery without memory effect and without self-discharge
Flexpower multi-device battery – can be flexibly combined also with other cordless tools
4-step switch for optimum sawing progress: three stages for pendulum action plus a fine-cut setting
Infinitely variable stroke rate control with restart lock for safe working
Base plate made of steel with detachable sliding block – can be swivelled to both sides in increments of 15° (max. 45°) for mitre cutting
2 blower functions: blowing out and vacuuming for a cutting line and working environment without sawdust
Quick-release chuck for a tool-free saw blade exchange in a matter of seconds
Anti-splinter guard for tear-free cuts
Integrated LED work lamp
Soft grip rubber inlays in the housing for extra firm hold
3-stage battery level indication
Flexpower – the innovative multi-device battery system from Trotec
Even the standard scope of delivery of this power tool from Trotec already includes a powerful 20 V multi-device battery from the Trotec Flexpower portfolio with a high charging capacity of 2 Ah. You can check the current charging status via the three-stage battery level indication that is integrated in the battery housing and clearly visible at one glance.
This power pack that can be fully charged in about an hour not only enables device runtimes extended by up to 33 % – as compared to standard batteries with only 1.5 Ah – moreover, this Flexpower multi-device battery can also be flexibly combined with different Trotec tools, including i.a. the cordless rotary hammer PRDS 10‑20V, the cordless multi-function tool PMTS 10‑20V, the cordless portable circular saw PCSS 10‑20V, the cordless random orbital sander PESS 10-20V, the cordless work light PWLS 10‑20V, the cordless work LED light PWLS 15‑20V, the cordless drill driver PSCS 11‑20V, the cordless hammer drill PHDS 11‑20V, the cordless grass and shrub shears PGSS 10-20V, the Cordless compressor PCPS 11‑20V and air pump PCPS 12‑20V, the cordless pendulum action jigsaw PJSS 11‑20V, the cordless hand-held vacuum cleaner VC 10‑20V or the Cordless vacuum cleaner VC 15‑20V.
Thanks to Flexpower you can do without unnecessary batteries and chargers – and the search for a suitable battery has also come to an end. Simply change the device, not the battery. Flexpower puts a stop to the unnecessary amount of various exchangeable batteries; the combination option with an ever increasing number of tools allows you flexibility at all times so you can carry on your projects energetically!
Premium branded battery for constantly full power
By now, lithium-ion batteries are widely distributed, after all they come without memory effect and self-discharge. Plus these batteries can be disconnected from the charger and used right away without it affecting the battery's lifetime. But "lithium ions" is a generic term used for batteries of various qualities and made of diverse electrode materials; including those with a perceptibly weakening performance once the battery charge decreases.
Lithium-ion batteries supplied by Trotec are high-quality premium branded NMC batteries with a high energy density and charging voltage lasting until the end without exceptions – guaranteed! Compared to conventional lithium-ion batteries the performance of our premium branded batteries does not decrease even as the discharge increases.
Consequently, you benefit from lasting maximum power even with an almost empty battery. During longer operation only the battery charge decreases, never their performance – that is the added value of Trotec's premium branded batteries!
Brand quality plus cost-efficiency
So far, you basically only had two options when choosing a cordless screwdriver: either good but expensive, or mainly cheap.
Trotec's PowerTools now offer a smart choice: good and cheap at the same time. For we do not only stand for measuring devices and air conditioners, but also for power tools of brand quality: professional Trotec solutions with an excellent value-for-money ratio!
VC 15‑20V – perfect working without raising any dust
With the cordless vacuum cleaner VC 15‑20V you spare yourself the trouble of emptying the dust bag. As an extraction system for electric tools, the VC 15‑20V keeps the air and working environment clean – making you independent of free sockets and annoying extension cables. Just as many Trotec power tools, the vacuum cleaner draws its power from a lithium-ion battery (20V/2Ah) from the Flexpower multi-device battery series.
Fine dust particles that are ejected in the sanding or sawing process are sucked into the 10-litre dust collection container without any effort by the extremely manoeuvrable cordless vacuum cleaner with its practical castors. Furthermore, an integrated HEPA filter (> 89 % filter efficiency) prevents dust particles that have been sucked in from getting back into the room air and being inhaled.
standard equipment
optionally available
not available
Shop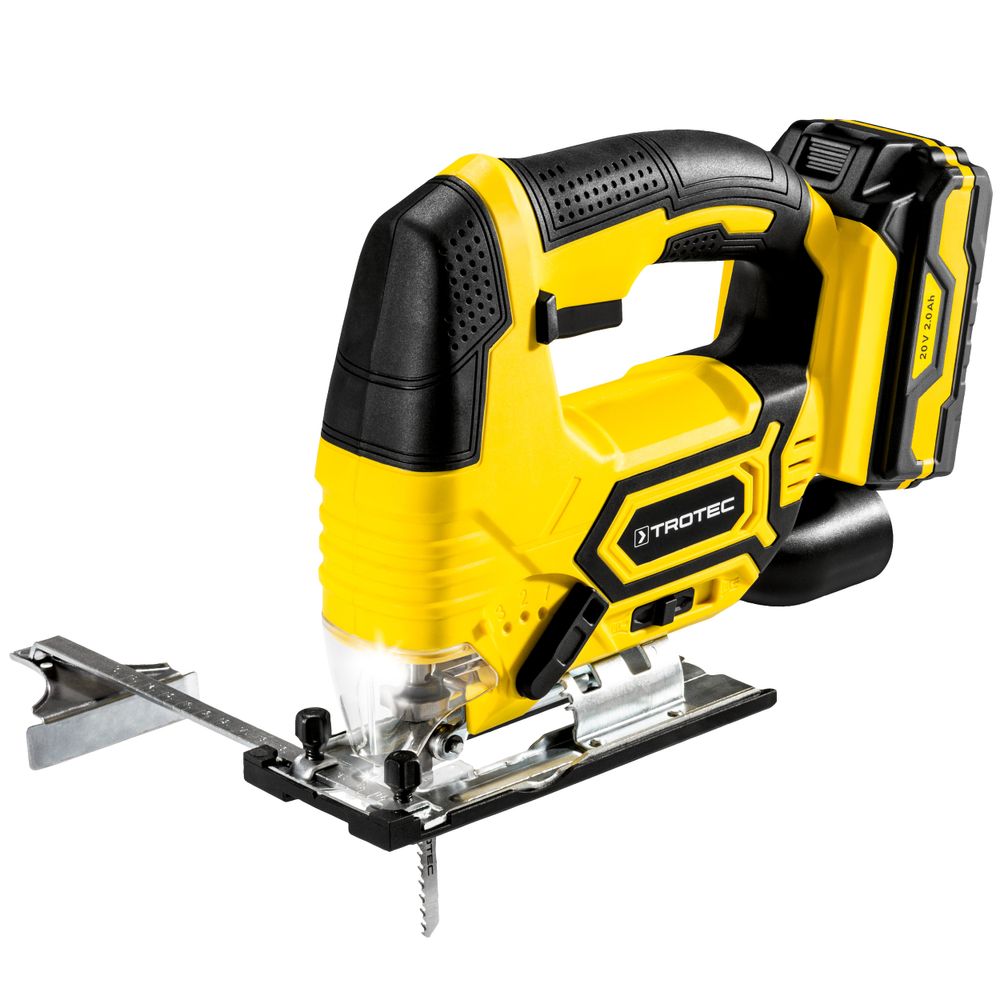 Technical data
Technical data
General information
Article number
4.425.000.006
Technical data
Stroke rate at no load (combined)
0 - 2.700 min-1
Pendulum cutting stages
0 – 3
Stroke [mm]
20
Max. cutting depth (wood) [mm]
80
Max. cutting depth (aluminium) [mm]
12
Max. cutting depth (metal) [mm]
5
Cutting angle: left/right
0°/15°/30°/45°
Sound values according to EN 62841
Sound pressure level [dB(A)]
85
Sound power level [dB(A)]
96
Uncertainty K [dB]
5
Vibration information according to EN 62841
Vibration emission value jigsaw blade wood (ah) [m/s²]
5.86
Uncertainty jigsaw blade wood (K) [m/s²]
1.5
Vibration emission value jigsaw blade metal (ah) [m/s²]
6.15
Uncertainty jigsaw blade metal (K) [m/s²]
1.5
Electrical values battery
Battery nominal voltage [V]
20
Battery capacity [Ah]
2
Capacity indication
3-stage
Battery type
Li-ion
Battery charging time [h]
1
Charger
Mains connection
230 - 240 V, 50 Hz
Output voltage [V]
21.5
Power input [W]
65
Nominal current consumption [mA]
2,400
Connection plug
CEE 7/16
Cable length [m]
1.5
Protection class
II
Dimensions
Length (packaging excluded) [mm]
250
Width (packaging excluded) [mm]
75
Height (packaging excluded) [mm]
200
Weight
(packaging excluded) [kg]
2
Equipment, features and functions
Functions and features
Infinitely variable speed control
Blower function
LED light
Safety switch
Infinitely variable speed control (on/off switch)
Saw blade cover
Tool-free exchange of accessories
Sliding block
Rip fence
Integrated dust extraction system
Anti-splinter guard
Laser
ON/OFF switch
Standard scope of delivery
Accessories scope of delivery
T-shaft saw blades
3x (2x wood, 1x metal)
Adapter for dust extraction
Battery pack
Hexagonal wrench
1x
Quick charger
Transport case
standard equipment
optionally available
not available