Cordless eccentric polisher PPOS 10‑20V
Labour-saving polishing with 3,000 revolutions/minute and a large 245 mm polishing disc – including 2 polishing bonnets
New bright shine for dull paints and surfaces
All things new lose their shine at some point! In winter, mud and road salt eat away at the car finish. In summer, abrasive road dust and the strong UV radiation wear out the outer layer of protective coating. Painted woods also lose their shine in the course of time, and sooner or later, due to continuous stress, tiles, laminate and parquet floors are covered with an unpleasant layer of dirt as well. No need to worry! Unattractive surfaces recover their full brilliant potential again in no time with the cordless polisher PPOS 10-20V.
The multifunctional polisher is suitable for the reconditioning and care of:
cars
motorcycles
floors
furniture
recreational vehicles
boats
instruments
Unlimited mobility and enduring power reserves for necessary maintenance tasks are provided by the powerful 20 V 2 Ah lithium-ion battery, which is furthermore compatible with a large variety of other power tools of the Flexpower multi-device battery series. In order to benefit from a quicker charging process (1 h), a quick charge with automatic charge termination is supplied in the standard scope of delivery.
Back to the original shine with full power
Powerful 3,000 revolutions per minute, a comparatively large polishing disc with a diameter of 245 mm as well as the ergonomically shaped handles with their anti-slip grip inserts ensure a quick working progress and shining results that are visible immediately. Thanks to a highly effective eccentric movement you no longer have to worry about polishing marks.  Maximum work safety is provided by the on/off switch that is recessed in the handle to switch off the device by a push of the thumb if required.
Two polishing bonnets for unique high-gloss finishes
The standard scope of delivery comprises a textile polishing bonnet for applying the polish (polishing agent) as well as an additional synthetic polishing bonnet for polishing or dewaxing the surface processed.
Eccentric polishing for beginners and pros
As an eccentric polisher the universally applicable PPOS 10‑20V is even perfect for "beginners" without any previous experience in the field of surface treatment. In contrast to conventional rotation polishing, the eccentric (elliptical) movement of the polishing disc doesn't leave any unpleasant holograms in the finish, thus ensuring that you can even attain excellent results without having any experience in this field.
Waxing, dewaxing and polishing with only one device
With the polishing bonnets included in the set you always have the right substrate material at hand for every surface and treatment to apply wax/polish and for the subsequent gloss polishing.
Accessories contained in scope of delivery:
1 x Cloth polishing bonnet
diameter: 245 mm
Model: terry cloth, integrated rubber band
Applications: applying and spreading polishing agents or waxing
1 x Synthetic fibre polishing bonnet
diameter: 245 mm
Model: synthetics, integrated rubber band
Application: gloss polishing or dewaxing the surfaces
1 x Flexpower multi-device battery (20 V 2 Ah)
To ensure that you can start right away, the Flexpower multi-device battery is supplied in a partly charged condition. Thanks to Flexpower you can do without unnecessary batteries and chargers. The battery that comes with a battery level indication takes only up to 1 h to be fully charged in the supplied charging station. The battery offers a high charging capacity of 2 Ah which guarantees for enduring missions with numerous Trotec electric tools.
Flexpower – the innovative multi-device battery system from Trotec
Even the standard scope of delivery of this power tool from Trotec already includes a powerful 20 V multi-device battery from the Trotec Flexpower portfolio with a high charging capacity of 2 Ah. You can check the current charging status via the three-stage battery level indication that is integrated in the battery housing and clearly visible at one glance.
This power pack that can be fully charged in about an hour not only enables device runtimes extended by up to 33 % – as compared to standard batteries with only 1.5 Ah – moreover, this Flexpower multi-device battery can also be flexibly combined with different Trotec tools, including i.a. the cordless rotary hammer PRDS 10‑20V, the cordless multi-function tool PMTS 10‑20V, the cordless portable circular saw PCSS 10‑20V, the cordless random orbital sander PESS 10-20V, the cordless work light PWLS 10‑20V, the cordless work LED light PWLS 15‑20V, the cordless drill driver PSCS 11‑20V, the cordless hammer drill PHDS 11‑20V, the cordless grass and shrub shears PGSS 10-20V, the Cordless compressor PCPS 11‑20V and air pump PCPS 12‑20V, the cordless pendulum action jigsaw PJSS 11‑20V, the cordless hand-held vacuum cleaner VC 10‑20V or the Cordless vacuum cleaner VC 15‑20V.
Thanks to Flexpower you can do without unnecessary batteries and chargers – and the search for a suitable battery has also come to an end. Simply change the device, not the battery. Flexpower puts a stop to the unnecessary amount of various exchangeable batteries; the combination option with an ever increasing number of tools allows you flexibility at all times so you can carry on your projects energetically!
Premium branded battery for constantly full power
By now, lithium-ion batteries are widely distributed, after all they come without memory effect and self-discharge. Plus these batteries can be disconnected from the charger and used right away without it affecting the battery's lifetime. But "lithium ions" is a generic term used for batteries of various qualities and made of diverse electrode materials; including those with a perceptibly weakening performance once the battery charge decreases.
Lithium-ion batteries supplied by Trotec are high-quality premium branded NMC batteries with a high energy density and charging voltage lasting until the end without exceptions – guaranteed! Compared to conventional lithium-ion batteries the performance of our premium branded batteries does not decrease even as the discharge increases.
Consequently, you benefit from lasting maximum power even with an almost empty battery. During longer operation only the battery charge decreases, never their performance – that is the added value of Trotec's premium branded batteries!
The key equipment features of the PPOS 10‑20V at a glance
The multifunctional cordless polisher PPOS 10‑20V is suitable for reconditioning and maintaining a variety of surface types
All polishers in direct comparison:
To find the polisher which exactly meets your requirements, please consult the concise overview of all polishers from Trotec, which we're providing to you here so that you can compare them directly to each other.
Models which you do not wish to include in your comparison can be easily dismissed with only one click.
A few practical benefits:
Lithium-ion battery with a power of 20 V without memory effect and without self-discharge
Flexpower multi-device battery 20 V 2.0 Ah – can also be flexibly combined with other cordless tools
Powerful polisher with 3,000 revolutions per minute for a high polishing efficiency
Ideal for the care and reconditioning of cars, boats, recreational vehicles, motorcycles, floors, furniture and other painted surfaces
Large polishing disc with a diameter of 245 mm for large-surface work
No polishing marks thanks to the eccentric movement
The overload protection provides for user and device safety
Ergonomic design for labour-saving work
Grip inserts in the housing for an extra secure grip
Maximum surface control by two handles
Easy handling for an even pressure distribution
Quick-charger with automatic charge termination: charging time of only 1 hour
Three-stage battery status indicator integrated in the battery pack
Incl. terry polishing bonnet, synthetic polishing bonnet, Flexpower multi-device battery, charger
All important features at a glance
Complete package for the reconditioning, care and polishing of paints, surfaces and floors with a dull finish:
Cordless polisher PPOS 10‑20V
Flexpower lithium ion multi-device battery (20 V 2 Ah)
Quick-charger (1 h)
Terry polishing bonnet for applying wax/polishing paste
Synthetic polishing bonnet for repolishing
Brings back the original shine of cars, motorcycles, recreational vehicles, boats, furniture and floors.
Brand quality plus cost-efficiency
Reliable, powerful and suited for the most challenging fields of application: These are some of the quality features of Trotec's polishers. Owing to their high capacity they are able to withstand the most extreme conditions. HighPerformance for demanding applications – after all, Trotec stands for brand quality and professional solutions with an excellent value-for-money ratio!
standard equipment
optionally available
not available
Buy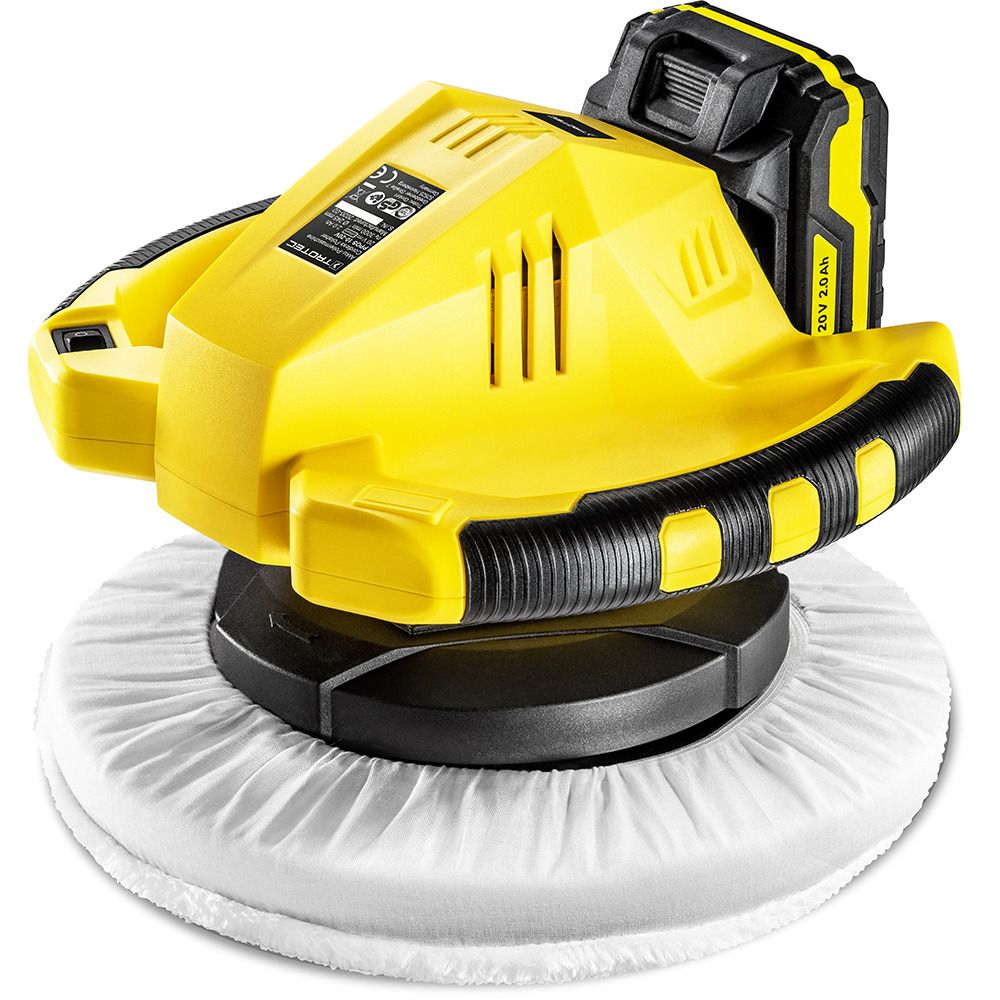 Technical data
Technical data
General information
Article number
4.450.000.101
Technical data
Idle speed rpm [min-1]
3,000
Polishing disc diameter [mm]
245
Sound values according to EN 62841
Sound pressure level LpA [dB(A)]
66.4
Sound power level LwA [dB(A)]
77.4
Uncertainty (K) [(K)]
3
Vibration information according to EN 62841
Vibration emission value (ah) [m/s²]
9.145
Uncertainty (K) [m/s²]
1.5
Functions and features
ON/OFF switch
Rotational motion
Eccentric
Orbit diameter [mm]
5
Start lock
Continuous operation
Venting slots
Tool-free exchange of accessories
Softgrip
Slip-resistant handle
Integrated LED work lamp
Gear selector switch
Additional handle
Electrical values battery
Battery nominal voltage [V]
20
Battery capacity [Ah]
2
Capacity indication
3-stage
Battery type
Li-ion
Battery charging time [h]
1
Charger
Mains connection
230 - 240 V, 50 Hz
Output voltage [V]
21.5
Power input [W]
65
Nominal current consumption [mA]
2,400
Connection plug
CEE 7/16
Cable length [m]
1.5
Protection class
II
Dimensions
Length (packaging excluded) [mm]
245
Width (packaging excluded) [mm]
245
Height (packaging excluded) [mm]
205
Weight
(packaging excluded) [kg]
2
standard equipment
optionally available
not available
Alternative products
Loading...